This was originally taken from Likera.com. I took it upon myself to edit the piece because Likera's point of view here is spot on; his use of English….well, that's another story.
---
I bet nobody will object that tight/silky clothes (e.g. nylon, latex stockings, pantyhose, etc) feel much better on hairless legs than on hairy ones. The FAQ posted here is about leg shaving and how to tell your wife/husbands, friends etc why you are choosing to do so. c.
Let's begin with the gym.
My personal experience is that people may notice but nobody cares. If they do care, it's likely that they are attracted to smooth legs. nobody notices and nobody cares. Also, it's common for sportsmen to get rid of body hair.
That's right guys: Ronaldo not only shaves, but wears pantyhose too. That is progress!
So how do you tell your wife/husband/partner about shaving? Here are some good reasons why:
-My hair grows in such a way that I am consistently irritated by it and I shave to prevent that condition (known as folliculitis).
-Aesthetically I hate hairy legs, they look dirty and I do not feel sexy with hair on them.
-My sports clothing pinches and pulls the hair. I remove it to avoid that pain.
(especially the clothes, associated with sport and especially fetish) pinch and pull the hair (AKA form fitting clothes and leg hair do not mix).
-Often hair grows under the skin (Shaving helps me I can't see where the hairs are ingrown. it's ingrown if I have a ton of hair blocking it. This one is pretty weak though; use as a last ditch effort).
Other reasons, that may work for you:
-Tons of guys shave at the gym/in sports.
-Just wanted to try what it looks/feels like. I love it. What do you think?
-I lost a bet (AKA if I did not shave my legs I would have to pay money/be called a pussy/whatever excuse you might use that could apply to you).
Jake Gyllenhaal is doing my own personal favorite look: full beard, smooth legs.
Any other reasons?
How about a big one: Reality. It's leg hair, not infidelity. Your significant other should be able to tolerate your keeping your own body hair in the manner you see fit. If they cannot tolerate it, perhaps it's time to lose both the leg hair and the significant other).
Do you have any other good examples to list? Email me at thepantyhoseking@outlook.com with your ideas!
---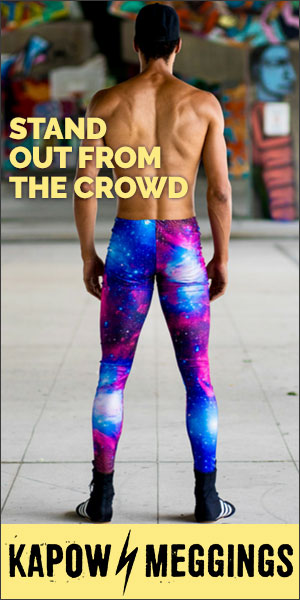 Order from Kapow Meggings using my affiliate link will earn you A FREE 6 MONTH TPK ROYALTY MEMBERSHIP! Just click on over and peruse the catalogue. Send receipt to at thepantyhoseking@outlook.com